Riverhouse Acres RV Campground is proud to offer our guests fun activities while enjoying a relaxing atmosphere.
The campground is located on a 9 acre farm. Steven and Barbara grow organic vegetables in a separate area for campground use.
Always check with us or camp hosts. Never pick your own!
Riverhouse Acres also maintains a greenhouse where we grow herbs and flowers during the spring and summer months. We use the herbs for culinary and medicinal purposes. Steven offers cooking demonstrations on how to prepare and use fresh herbs in foods.
Valentino Basil
Lavender
Rosemary
Thyme
Oregano
Calendula
Cilantro
Tansy
Chive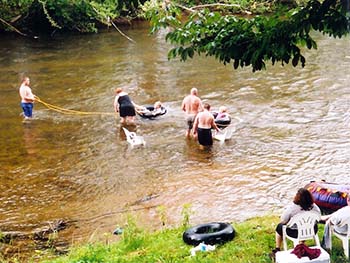 We enjoy camping at Riverhouse campground. It is very peaceful and quiet and serene by the river and convenient to the Great Smoky Mountains. The owners are really nice and accommodating and will make your stay enjoyable. Try it and you will like it. – J. H. Blackwood, Oneowta, AL
Campers can enjoy swimming and fishing in the Pigeon River. The river is accessible from a short foot trail. There are large rocks that are easy to stand on and fish from. We can also schedule tubing trips down the river from 15 minutes to 5 hours. Please bring your own equipment.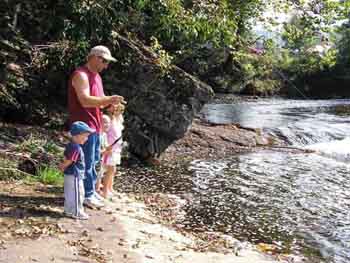 In addition to the gardens, Riverhouse Acres also has a honeybee farm that guests are welcome to learn about and participate in.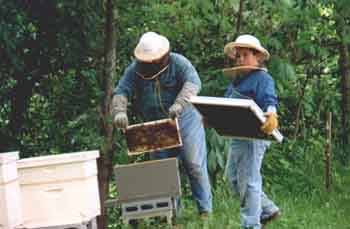 Campers are welcome to use the pavilion for their own activities or events.
We have a combined 50 years of experience in professional catering and events planning, and would be happy to provide our services and expertise for cookouts and picnics.