Riverhouse Acres RV Campground
RV Camping in Canton, NC
6 sites available
for full time or seasonal stays.
$375 a month plus electric.
Deposits Required
Why River House Acres
"You were great hosts, and went 'way' beyond the call of duty so many times it was remarkable."
Mike Waite of Mike Waite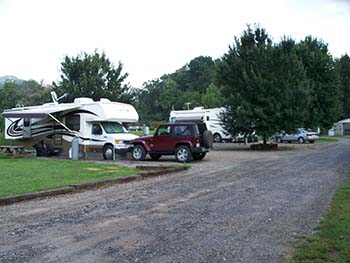 Riverhouse Acres RV Campground is nestled in the Great Smoky Mountains at the foot of Cold Mountain in Canton, North Carolina. We are located on the banks of the forks of the East and West Pigeon River. Both the book and movie Cold Mountain are based on the place, people and events that took place near our campground.
We have 20 sites located on the river bank. We offer full RV hookups including electric, water, and sewer. In addition to the RV sites, we also have 10 traditional tent campsites. The bathhouse is handicapped accessible with 2 full and 2 half bathrooms. Fire rings are available for campers to gather around and enjoy. Centered in our campground is a pavilion that is open to all guests. This area is available for gatherings and activities both formal and informal.
Get a glimpse of what you can experience
Riverhouse Acres is a family owned and operated recreational getaway. Your hosts are Steven and Barbara Eaffaldano. The Eaffaldano's have been in the campground business for ten years.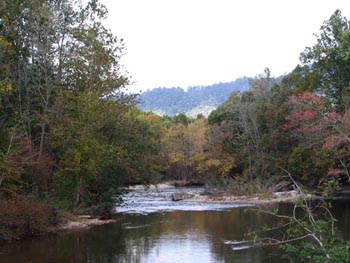 Come and stay with us and enjoy the tranquil serenity of the Pigeon River in our secluded campground. Seasonal, monthly and weekly rates are available.
Check Out Our Blog
We like to blog too! If you're planning an RV camping trip, be sure to check out all of our tips and advice first.
Planning on going camping in your RV and want to make sure your trip is perfect? In this article we'll cover all the essentials that you should never forget.

1. Food:

The first thing every RV camper needs to do before heading out of the house is to prepare a list of what they're planning to eat while they're away from home. If you don't have enough food for the duration of your stay, it's time to go shopping. It also doesn't hurt to keep some emergency rations on hand just in case there are unexpected delays or other problems.

2. Water:

In addition to food and drink, it's important to remember water. You can take plenty of bottled water with you if you plan ahead, but if not, you may need to buy more at the store once you arrive. Don't forget your own drinking water as well, especially if you're staying somewhere remote or places where the tap water might be questionable.

3. Cleaning Supplies:

Make sure that you have plenty of paper towels and hand sanitizer on hand. You should bring some basic household cleaners and some bleach to keep your living space smelling fresh and clean.

4. First Aid Kit:

It's always best to be safe than sorry. Make sure that you have a basic first aid kit on hand, especially if you have children who will be travelling with you. A small first aid kit can easily fit inside your RV, but if you have room for one, then it's certainly worth keeping a larger one for emergencies.

5. Entertainment:

Every good camping trip requires entertainment options. There are many ways to entertain yourself when you're away from home, but nothing beats a movie night or playing cards with friends.

6. Firewood:

Firewood is a critical part of most campfires. If you don't have enough wood with you, then it's time to find a nearby store and pick up some firewood. There are even stores that sell pre-cut firewood, which can save you some time and hassle.

7. Tools:

If something breaks during your trip, you need to be able to fix it yourself. Bring a toolbox with you along with extra screws, nails and any other items that might come in handy.

8. Extra Batteries:

Depending on how long your trip is, you may need to replace batteries in all of your devices. Keep a few extra batteries around just in case you run out of power.

9. Equipment:

Make sure you pack all of the equipment needed to enjoy your vacation. For example, if you're taking your dog with you, you'll definitely need a leash. This applies to other animals as well. You probably don't want to leave your pet behind, and a lot of RV parks allow pets these days.

10. Towels & Linens:

It's important to stay clean while you're away. Pack enough towels and linens for everyone in your group, including baby wipes and cleaning supplies.

11. Luggage:

Most people think that luggage is only useful for travel, but if you plan on bringing souvenirs back home, then you'll need to pack some bags.

12. Paperwork:

There are many documents that you'll need to keep handy throughout your trip. From proof of registration for your RV to photocopies of all of your ID and insurance information, you should make sure everything is on hand.

13. Maps:

Always know where you're going! Whether you use GPS, Google maps, printed maps or any other form of navigation, it's important to always have access to them.

14. Sunscreen:

Sunburns are terrible, but they're even worse when you're camping. Be sure to pack sunscreen, sunglasses and hats. You'll also need bug spray, especially if you're camping in the summer.

15. Gear:

Your gear can make or break your trip. Make sure you bring along the right items to make your trip enjoyable, like fishing poles, hiking boots and anything else you need to stay active.

16. Clothes & Shoes:

Unless you plan on wearing the same clothes for the entire week, you need to bring several sets of clothing. It's also wise to bring a change of shoes if possible.

17. Toiletries:

Bringing along toiletries is crucial. It's important to have enough soap and shampoo to last the whole trip, but you should also consider bringing along some facial cleanser, deodorant and toothpaste.

18. Phone Chargers:

The worst thing that could happen while you're away on your trip is running low on battery life. Always carry a phone charger with you, especially if you plan to be outdoors for the majority of your vacation.

19. Camera:

Don't forget to bring your camera so that you can document your trip. Even better, you can get your friends and family involved and ask them to take pictures of their own.

20. Sunglasses:

When you're camping, you'll spend most of your time outside. That means that you should probably wear sunglasses to protect your eyes, especially if you're camping near the ocean.

Final Thoughts

Before you start packing for your trip, you should always create a checklist. By making a list, you will always be prepared for any possible scenario. The more organized you are, the easier it will be to relax and enjoy yourself.